Go Faster
Flying High
CFD simulation accelerates development of America's Cup racing boat
By Patrick Farrell
A new paradigm in high-performance sailing
The America's Cup represents the forefront of technological development in the sport of sailing. Today, that means racing in boats that not only float in the water but are also capable of flying above it on foils, allowing them to reach previously unimaginable speeds. As well as being an exciting and demanding challenge for the sailors, it is also a challenge for the design teams, with the 36th America's Cup introducing a significant rule change with the introduction AC75 foiling monohull class.
Crucial insight
Computational fluid dynamics (CFD) simulation has played an important role in previous editions of the America's Cup, however the rules have changed substantially for the 2021 event. Under the AC75 class rule, physical testing in wind tunnels or towing tanks is not permitted. In addition, teams are limited to building only two race boats with a maximum of three rigs, four rudders and three pairs of foils, so there is very little room for error.
Max Starr, CFD engineer at INEOS TEAM UK, explains: "At the start of the campaign, the AC75 class was completely novel, so CFD was crucial for us to validate our design choices early on and be confident that the design would be physically feasible." As the team worked to navigate the vast design space, simulation was an invaluable tool to help them to understand how their designs would behave on the water in all situations.
"In CFD you can put the boat through many different scenarios which wouldn't be easy to do with a model test or a full-scale boat test, like measuring slamming loads if the boat comes off the foils suddenly and the hull is thrown into the water," Starr says.
In a competition where no physical testing can be done, data from CFD simulations becomes the lifeblood of the virtual design and testing process. By simulating many different boat states (unique configurations of the boat including hull position, sail trim and rudder and foil angles), CFD data is used to feed the team's Velocity Prediction Program (VPP) which predicts the boat speed under different conditions, crucially enabling designers to understand the relative merits of different designs. The VPP data is also fed into the team's motion platform simulator, meaning that the sailing team can 'sail' different designs around a race course. As well as providing valuable feedback to the design team, this is a vital tool for the sailors to learn this completely novel class of yacht and make the most of their time on the water once it is built.

At the start of the campaign, the AC75 class was completely novel, so CFD was crucial for us to validate our design choices early on and be confident that the design would be physically feasible."
Max Starr, CFD Engineer, INEOS TEAM UK
Following a successful technical partnership with Siemens during its previous America's Cup campaign, INEOS TEAM UK selected Simcenter™ software to aid them in their quest to win the 36th America's Cup. Simcenter is part of the Xcelerator portfolio of solutions and services from Siemens Digital Industries Software.
INEOS TEAM UK uses Simcenter STAR-CCM+™ software for the company's CFD simulations and Simcenter 3D software for structural analysis. Recognizing the value of the digital twin in such a fast-paced design environment, the team also relies heavily on Siemens NX™ software for computer-aided design and Teamcenter® software for product lifecycle management to build a complete digital model that can be leveraged by the whole team – from designers to boatbuilders as well as by the sailors, throughout the boat's design and lifecycle.
Beating the clock
While the America's Cup rules do not place any limits on team budget, headcount or other resources, the design cycle is very short. "With only two physical boats, you have to go through as many design iterations as you possibly can in simulation," says Starr. "But to account for all the possible wind speeds, sail choices and boat states, we need to run thousands of simulations to understand how well each design will perform on the water," and that means that the CFD team has to work as efficiently as possible.
One way the team can save time is by building advanced automation into their CFD workflows. The Design Manager capability of Simcenter enables multiple designs to be executed automatically from a single template simulation. "The high degree of scriptability lets us automate repetitive tasks, and when combined with Design Manager it allows us to easily push through large batches of simulations at a time," explains Starr. The CFD team has also taken advantage of the deep automation via Java macros to set up part-specific workflows enabling design team members to submit designs to be run over a matrix of boat states automatically and without any CFD expertise. Democratizing simulation work in this way frees up time for the more experienced analysts to focus on more challenging simulations including cavitation and ventilation of the foils and rudder.
To ensure competitiveness, the team must regularly re-evaluate its choice of toolsets. "Because time is our biggest enemy, we need to make sure we have the right tool for the job, and Simcenter has the ability to span all of our needs and requirements in a single package," Starr says. "It ticks a lot of boxes for us, and is a very strong tool technically."
Moving to the cloud
As the boat design progressed, INEOS TEAM UK ran more and more designs and boat states through CFD, using more complex models and quickly reaching the limits of the computing cluster at their base in Portsmouth, UK. "Sometimes, if you have to wait for results then that's okay, but in other cases you really needed the answer yesterday," Starr explains. "And in those cases, the solution is to go somewhere where you can scale up."
"That was the biggest driver for us to move to the cloud – simply the fact that we could run on as many cores as we could afford," Starr continues. "The ability to then scale up becomes a massive advantage." The team also benefits from the flexibility of being able to tap into extra compute capacity during busy periods in the design cycle in a cost-efficient manner.
Having formed a partnership with Amazon Web Services (AWS), INEOS TEAM UK set to work to configure a virtual cluster in the cloud for running larger simulations and more extensive performance maps. By using the discounted spare computing capacity of Amazon EC2 Spot instances, the team was able to increase maximum simulation throughput by around 20 times, while reducing run time from months to days for large simulations.
Since INEOS TEAM UK was paying for compute resources on AWS by the hour, the power on demand (POD) license scheme for Simcenter was a great fit. "Pay-as-you-go licensing makes it a lot easier easier to budget for simulation, and it also means that you never have licenses going to waste," says Starr.
Better together
On the highly competitive battleground of the America's Cup, it is especially important to be getting the most out of simulation and high-performance computing (HPC) resources. The team's partnerships are crucial to maintaining that competitive edge. "having my Siemens support engineer guide me to new features that they know will be relevant and helpful, and advise when something isn't going to be a good use of my time has been invaluable," Starr explains. "Support engineers have also helped us to get a deeper understanding of some of the models with help from the developers, which has been fantastic, making sure we are getting the most out of the tool."
The team was also able to rely on HPC experts at AWS to assist with the selection and configuration of virtual cluster components to create an optimal setup for CFD simulation on the AWS platform. "Having access to solution architects for advice on fine-tuning has been invaluable to us," Starr says. "They've been there whenever we had questions, and having that help readily available has allowed us to save a lot of time in the setup process."
Buying back time
In October 2020, INEOS TEAM UK launched their second race boat, Britannia, in Auckland, New Zealand – the culmination of three years of intensive design, analysis and training in the simulator and on the water. But the CFD simulation work never stops. "Even though we are now so close to the Cup, I'm still developing the analysis further, as we are learning things about the boat all the time. CFD is very helpful to develop that understanding, and to prove or disprove theories about the boat's behavior on the water."
When asked if simulation in the cloud is likely to become a long-term strategy for the team, Starr summarizes: "As time goes by, the case for running simulations in the cloud gets stronger and stronger." What are the downsides? "There will always be pitfalls, much like there will always be for on-premise clusters. Sometimes it just takes a change of mindset – for example, plugging additional storage into an on-premise cluster is cheap to do, but on the cloud it may be more cost-effective to simply re-run calculations if we need access to those files later on."
America's Cup cycles are very short but intensive periods of engineering work. "The one commodity you cannot buy is time – it is in a way our most important currency – but running with Simcenter in the cloud allows us to do just that," Starr says, summarizing the importance of making the most of the technology available. By gaining efficiencies in its CFD workflow and scaling up on the AWS cloud, the team is able to, in effect, gain back more time to spend making better-informed design decisions and discovering innovative solutions.
The Vendée Globe with a digital twist
Around the world in 80 days
The Vendée Globe is one of the toughest endurance sailing races literally around the planet. Every 4 years, famous and soon-to-be-famous sailors single-handedly sail IMOCA 60 class monohull yachts around the world. The current record is held by Armel Le Cléac'h. He won the 2017 edition with a stellar 74-day around the world nautical sprint. This year the finish wasn't a record-breaker, but rather a tale of heroic proportions. On January 27th, 2021 at 8:30 at night, Charlie Dalin became the first to cross the finish line in Les Sables d'Olonne, France. He clocked in an impressive 80-day jaunt around the world.
Dalin wouldn't be crowned the winner, though. Turn the clock back to the early race days on November 30th, 2020, about 840 nautical miles west of Cape Town, South Africa. Experienced St.
Malo skipper, Kevin Escoffier, witnessed his high-flyer, the PRB, literally split into two within minutes. After a nerve-racking eleven-plus hours in his life raft, bobbing amongst high winds and huge swells, he was heroically rescued by Jean Le Cam, a Vendée Globe icon.
Le Cam and two other sailors who were rerouted for the rescue received time credit. In the end, Yannick Bestaven was declared the winner even though he finished third. The characteristic Le Cam, after time credit, was ranked fourth.
Like America's Cup racing yachts, Vendée Globe monohulls are high-tech, carbon-fiber speed machines. Designers and naval architects have to follow IMOCA class restrictions when it comes to size (60 feet or 18.28 m), the gauge and the keel. That being said, there is room for design differentiation: a choice of two masts, limited sailing ballasts and foils. As expected, the big news this year was the foils: those "little feet" or "fins" that lift the boat off the water, so that it flies at top speeds. Compared to 2016, where there were only 6 boats with foils, this race featured 19 boats equipped with various foils.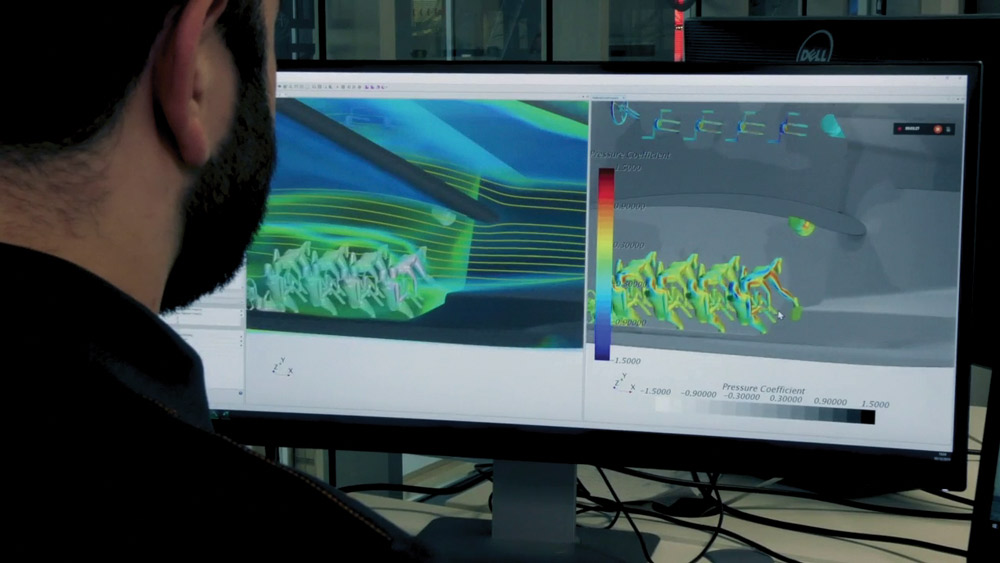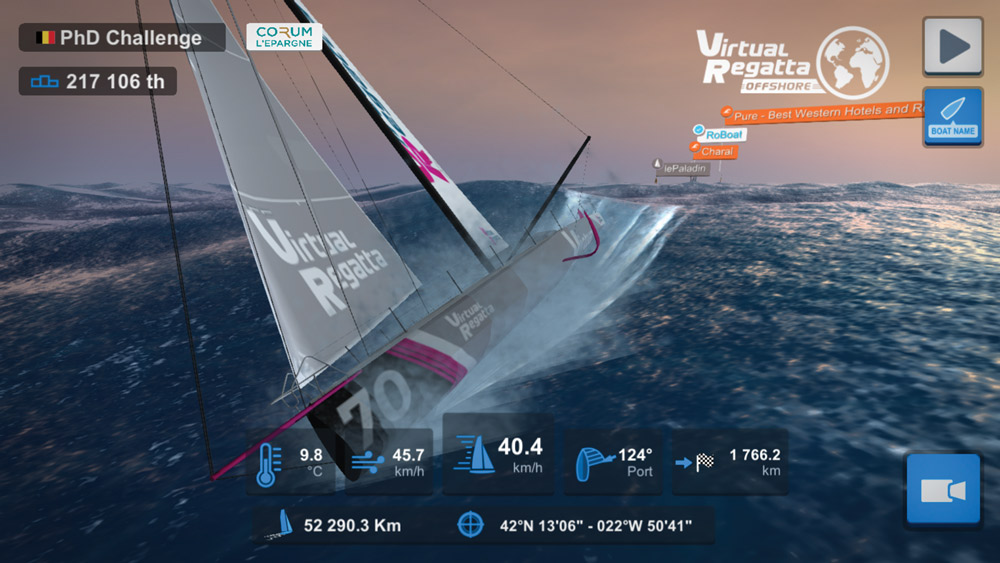 Even better than the real thing
To the delight of many landlocked sailors this year, there was also the Virtual Vendée Globe, a hybrid sailing race simulator that dropped virtual racers right into the action with the real sailors. With the pandemic, the Virtual Vendee Globe took off like wild fire -- over one million people raced along. Virtual racers could build and modify a digital twin of an IMOCA 60 sailboat, adding foils and ballasts just like a naval architect. Virtual Vendée Globe sailors raced using real-time data (or as close as possible in some areas of the world). This included weather conditions, winds, currents, waves and positions of ice, land and other obstacles including real and virtual competitors. Like the solo navigators in the real thing, virtual sailors had to master the control of foils and sails, read and predict the weather conditions, and use their navigational moxie twenty-four hours a day to get around the globe in one virtual piece.
Customer's primary business
INEOS TEAM UK is a commercial sporting team led by four-time Olympic gold medalist and 34th America's Cup winner, Sir Ben Ainslie. The team's long-term aim is to bring the prestigious America's Cup back to Britain, where the first challenge was held in 1851 off the Isle of Wight.
Customer location Portsmouth England
More about the Vendée Globe and digitals twins