EXPLORE THE POSSIBILITIES
Sustainability on the

high seas
Cape Horn Engineering creates highly accurate digital twins to study WASP energy savings
By Jenn Schlegel
Image provided by Cape Horn Engineering
The silent green revolution in marine
Sustainability is king across practically every industry today, from automotive, aerospace and energy to consumer goods and food. Although slightly slow to start, the green revolution has taken the greater marine industry by storm. Cargo vessels and cruise ships are being refitted with more sustainable propulsion systems. Next-generation vessel designs are incorporating new wind and solar technology. With new regulations on the horizon, energy efficiency and improved performance are a top priority when it comes to naval architecture and vessel design of all shapes and sizes.
One needs to remember that creating a ship, especially a complex one like Wonder of the Seas, currently the largest cruise ship, is an entirely different ball game than designing a simple four-door family sedan. There could be millions of extremely large and complex parts, components and systems to integrate on something as immense as a cruise ship or specialized marine vessels like an LNG carrier, a polar research vessel or a CTV (crew transfer vessel). Ships run into the hundreds of millions of euros as investments with lifespans of 30-plus years in many cases. When you start to design complex and expensive vessels like these, every cent that you can shave off by enhancing energy efficiency contributes to reducing the overall cost of operation and long-term sustainability of the marine sector – not to mention the overall environmental impact of reduced emissions and global warming.
The brainchild of Dr.-Ing. Rodrigo Azcueta, a naval architect and Computational Fluid Dynamics (CFD) expert, Cape Horn Engineering is a world-renowned CFD consultancy based in Portsmouth, with a serious racing pedigree; heading the CFD technology for four America's Cup Challenges and conducting performance analysis for yachts in the world's most prestigious races including the Volvo Ocean Race, the Vendeé Globe, and the Transat Jacques Vabre.
As industry leaders in CFD and marine technology solutions, they specialise in performance prediction of racing yachts, sailing yachts, superyachts, motor boats, commercial ships, renewable energy structures and more.
CFD for a greener marine future
The specialist team at Cape Horn Engineering is dedicated to achieving sustainability throughout the marine sector, helping naval architects around the world successfully reduce emissions, and improve energy efficiency by implementing new, more sustainable energy sources and analysing design options.
One of the key new technologies they use is a simulation process to make sure that a ship design meets or exceeds the upcoming Energy Efficiency Existing Ship Index (EEXI) regulations. The International Maritime Organization (IMO), a specialized United Nations agency, has set a policy framework to reduce carbon intensity by at least 40% by 2030, and a total greenhouse gas emissions by 50% by 2050. The first measures, namely the Carbon Intensity Indicator (CII) and the EEXI come into force on January 1, 2023.
While CII is an operational measure, assessing how efficiently a ship transports its cargo according to real-time fuel consumption, EEXI is a technical measurement that purely considers the vessel's design parameters. It is comparable to the Energy Efficiency Design Index (EEDI) for newbuilds. The EEXI measures the design CO2 emissions relative to the vessel's size and speed and translates this to emissions per cargo ton per mile. The IMO has set limits regarding the allowable EEXI according to vessel size and type. Every ship will be required to comply with the EEXI next year.
"Embracing CFD technology gives ship owners a cost-effective means by which they can explore a range of solutions to ensure they are on target to meet the upcoming EEXI regulations. It also provides the ideal environment to test and optimize novel energy saving devices, such as wing sails. There are several possible solutions which must be considered to reduce the environmental impact of the shipping industry, each of which has a very important role to play," explains Dr.-lng. Rodrigo Azcueta, Managing Director, Cape Horn Engineering.
CFD simulation software by Simcenter, can help calculate the EEXI for older vessels by developing speed power curves to update existing documentation. This is a much faster and more efficient method than traditional towing tank testing. Another area where CFD is beneficial, is when engineers need to investigate potential energy efficiency improvements, such as adding Wind Assisted Ship Propulsion (WASP) devices and calculating their impact on the EEXI. To meet the new regulations,several ship owners are considering WASP devices, such as wing sails, suction sails and Flettner rotors…to name a few.
"WASP devices can potentially cut fuel costs by 10 to 30 percent, but they are highly complaex systems to model. Both the hydrodynamic and aerodynamic effects need to be modelled simultaneously in a single simulation. We have developed a simulation workflow to directly compare WASP device efficiency and determine potential savings. Wind conditions above the water surface are modelled with an accurate wind profile taking into account the atmospheric boundary layer wind gradient," explains Dr.-lng. Azcueta.
Comparing WASP technology with digital twins
With simulation technology, naval architects and engineers can investigate the performance of different WASP options virtually, to make the most effective choice according to the vessel's requirements.
Of course, result accuracy is always important, which is why engineers need to be sure to quantify and understand the simulated CFD results via a solid verification and validation process. Today, with increased computer power and more accurate software and processes, digitalized versions of vessels are reflecting real-world performance quite accurately. This is what is referred to as a digital twin.
To showcase this solution, Cape Horn Engineering developed a case example comparing two WASP configurations on a 138m general cargo vessel, the MV Regal. Benchmark data was readily available for the MV Regal, making it an obvious choice for verification and validation of the process.
The first option examined consisted of two three-wing-three-flap wing sails mounted on the deck. The second option replaced the two wing sails with two similar-sized Flettner rotors.
"We didn't aim to compare the WASP technology itself, but rather demonstrate our simulation set-up as a feasible way to compare different types of WASP devices with a highly accurate all-in-one, 6 degrees-of-freedom hydrodynamic and aerodynamic simulation, based on Simcenter software," explains Dr.-lng. Azcueta. "Even unoptimized, there was a 14 and 24% power reduction thanks to the WASP devices. This tool can clearly help ship owners make an informed decision when it comes to retrofitting their vessels for energy savings."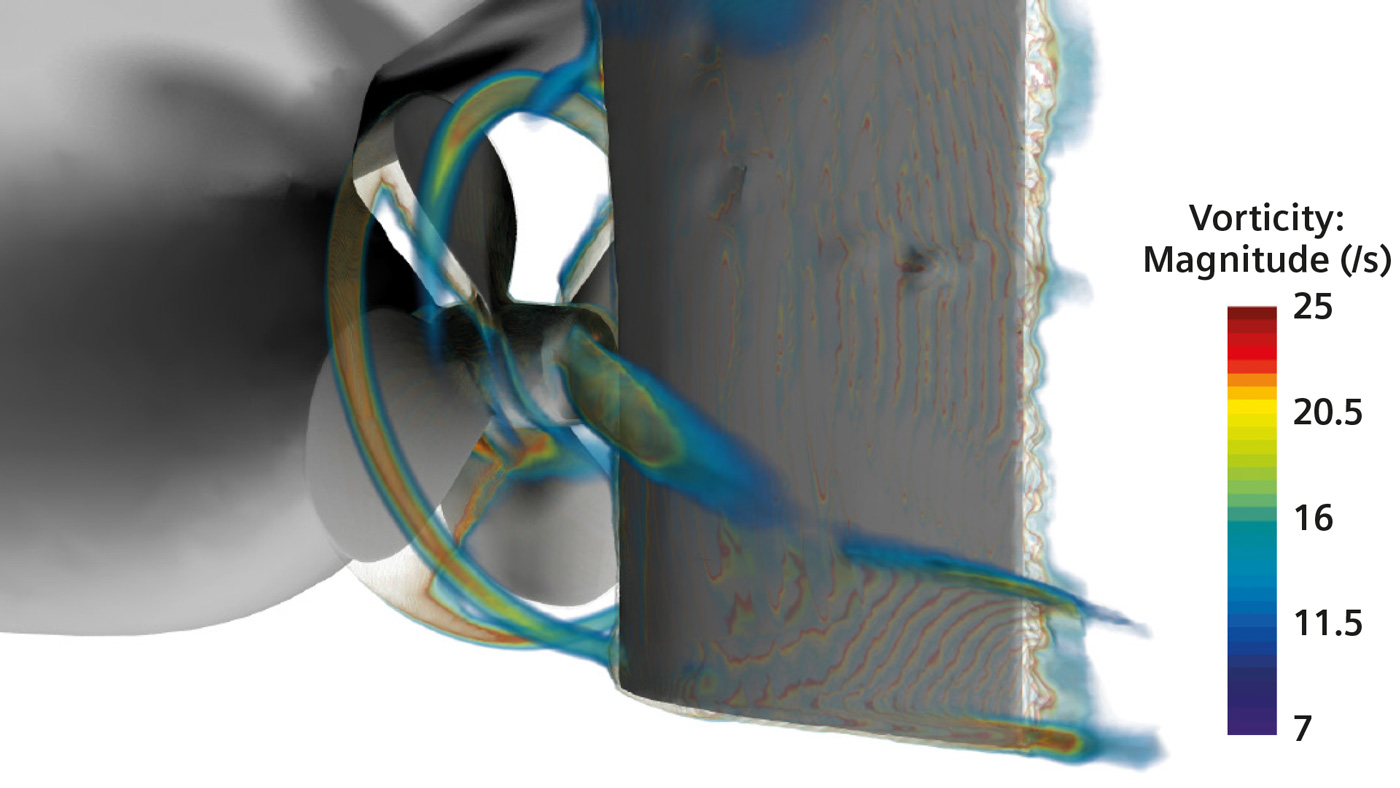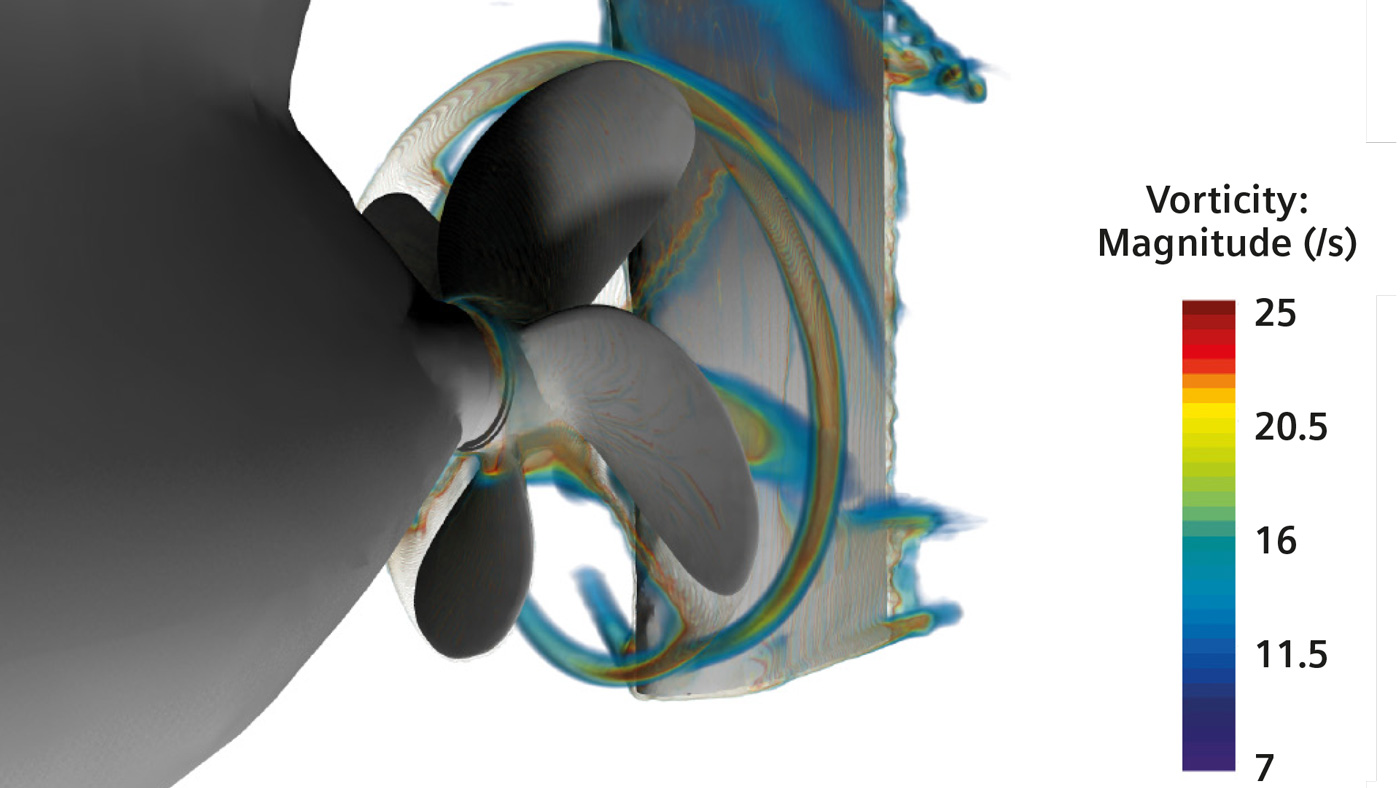 Images provided by Cape Horn Engineering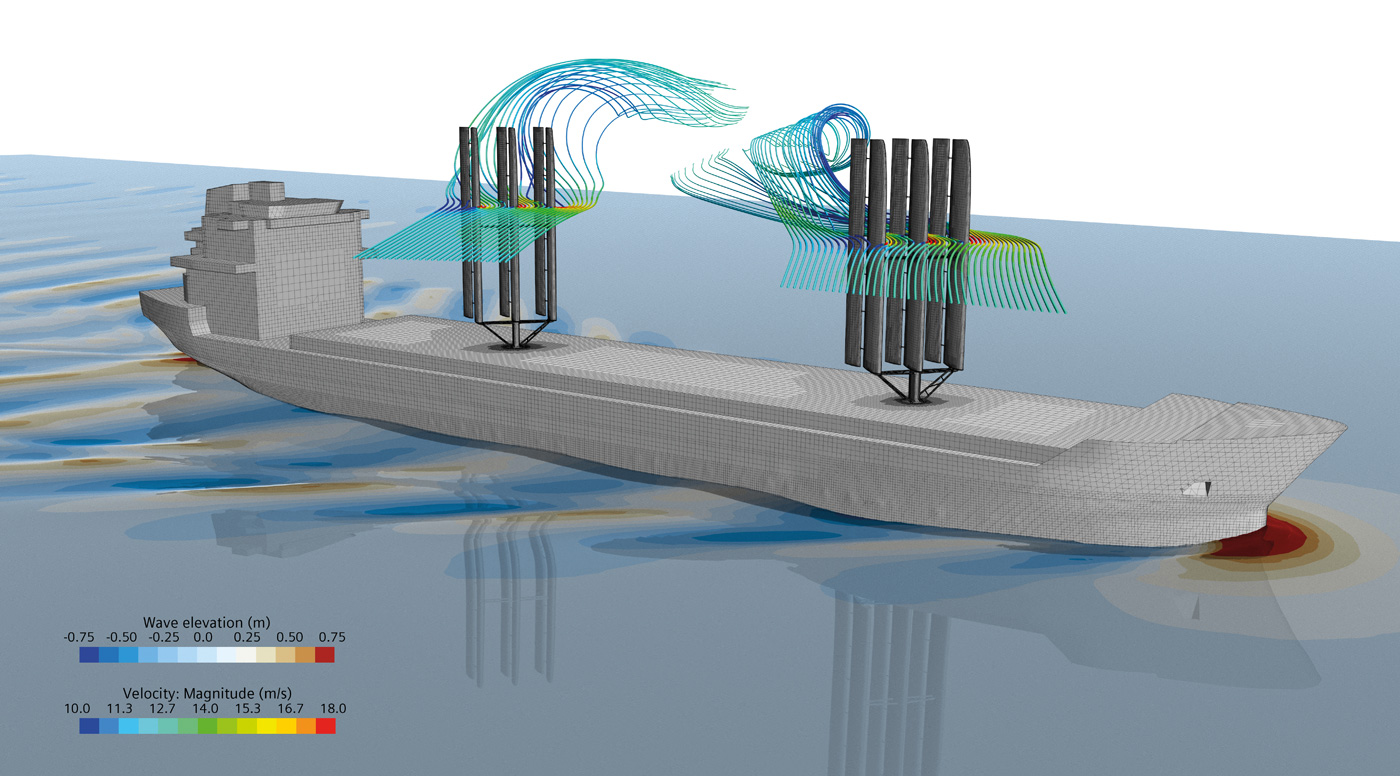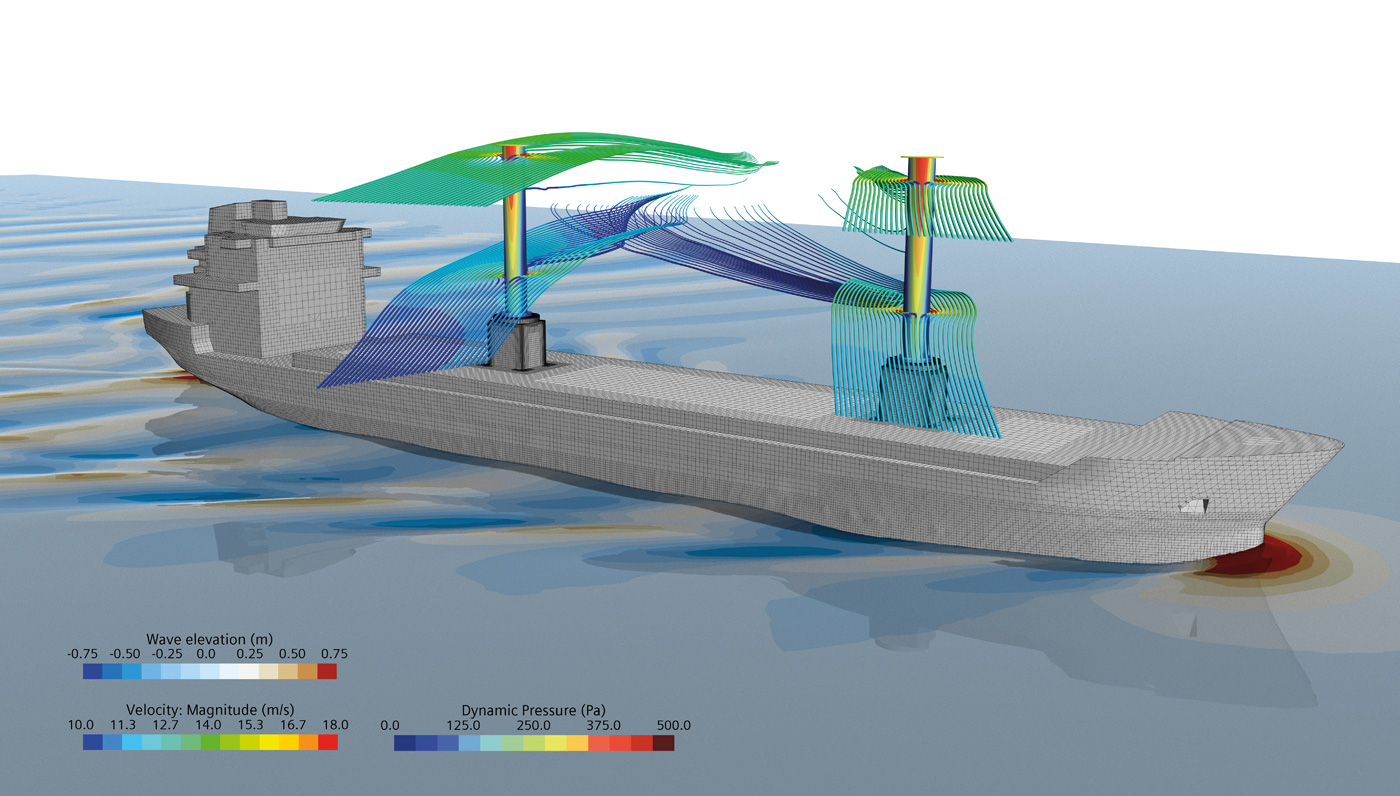 Images provided by Cape Horn Engineering
Enter artificial intelligence
Modelling wing sails under realistic conditions can be accurately done, but it still takes super-computer capacity to run these types of simulations, especially when optimization loops are included. In an ideal world, the simulation runs for a study like this could hit the hundreds or even thousands of computed simulations. To address this issue, Cape Horn Engineering is working together with several companies and universities to train AI models to use reduced order modeling and design neural networks to compute the aerodynamic forces in seconds rather than hours.
"Incorporating AI into the picture opens vast possibilities to optimize the wing sail design and develop intelligent control systems to ensure the largest possible reduction in emissions," adds Dr.-lng. Azcueta.
He concludes, "Our niche area of CFD expertise has so much potential to offer greener shipping solutions. It is not often that your interests align in such a way, so it is an exceptional and exciting opportunity for everyone involved. Collectively we can make a difference on a global scale."
About Cape Horn Engineering
Cape Horn Engineering is a UK based company, best-in-class independent CFD (Computational Fluid Dynamics) consultancy with clients all over the world. Industry leaders in CFD and marine technology solutions, specialising in performance prediction of racing yachts, sailing yachts, superyachts, motor boats, commercial ships, renewable energy structures and more.
CFD technology is a crucial support for naval architects, yacht designers and design engineers to optimise designs for critical elements such as weight saving, performance predictions, reducing emissions and design optimisation.
Using their extensive experience, they offer unique solutions and insight into how this revolutionary technology can assist designers to improve performance and efficiency, leading to considerable fuel and emission reductions.